Choose from a wide range of options
The complex includes 239 units of various types and dispositions, including a trio of townhouses and a luxury penthouse. Whether you're looking for a starter or investment apartment, or a larger family space, Pekárenský dvůr offers plenty of options.
Jaký bude výhled z nejvyšších pater?
Záběry byly pořízeny z výšky cca 19 metrů, což odpovídá nejvyšším patrům budovy. Náhled má pouze čistě informativní charakter.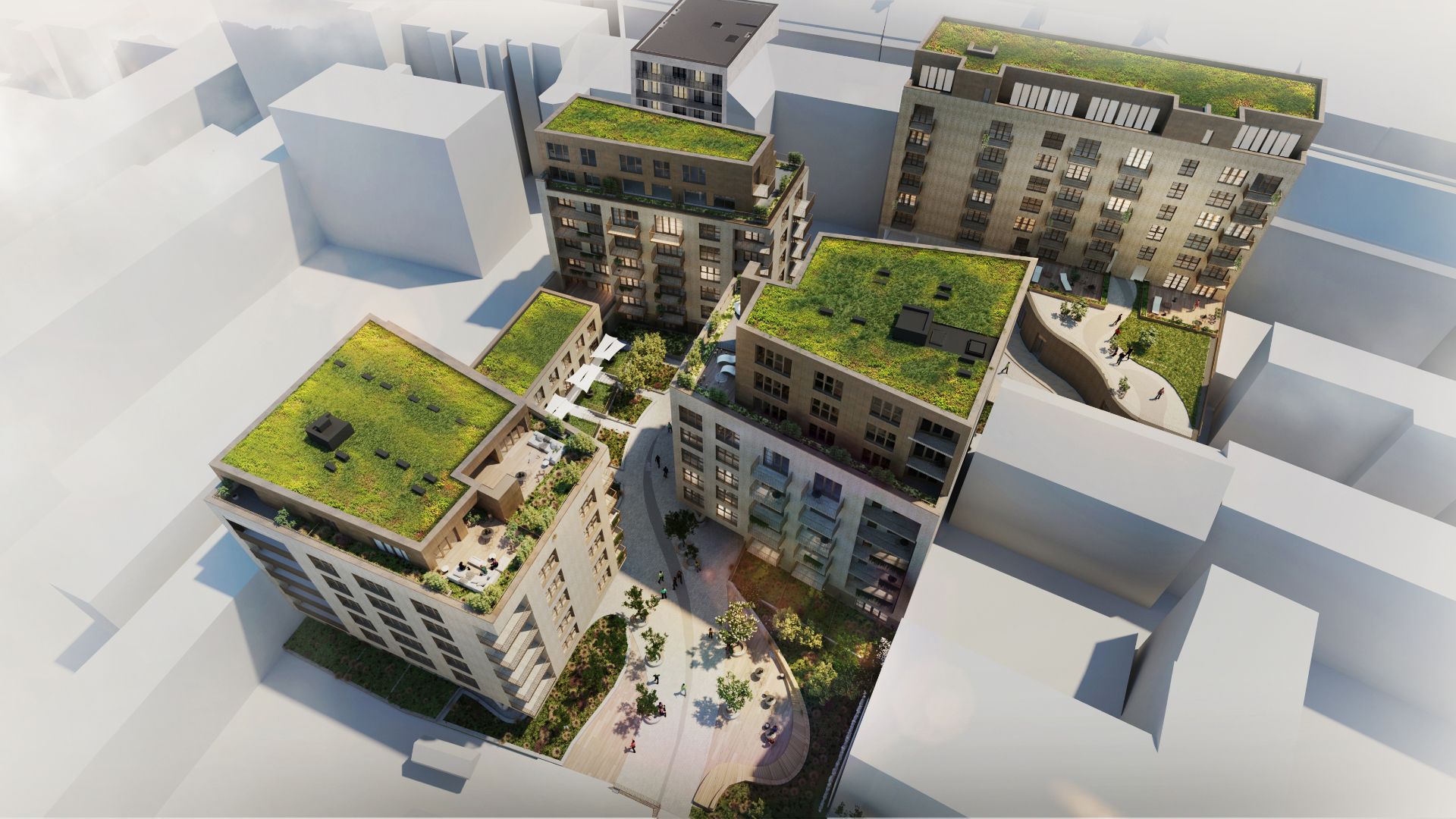 Overview of units and price list

František House

Eduard House

Karel House

Otto House

Townhouse

All available

All available

1.NP

2.NP

3.NP

4.NP

5.NP

6.NP

7.NP

8.NP

All available

1.NP

2.NP

3.NP

4.NP

5.NP

6.NP

7.NP + 8.NP

All available

1.NP

2.NP

3.NP

4.NP

5.NP

6.NP

7.NP

8.NP

9.NP

All available

1.NP

2.NP

3.NP

4.NP

5.NP

6.NP

7.NP

Number
Type
The floor
Disposition
Orientation
Apartment area
Balcony / Terrace / Front garden
Total sales area
Price incl. VAT
F.2.11
ateliér
2.NP
1+kk
S
29,9 m²
- / - / -
29,9 m²

4020000

CZK

Go to detail
F.2.16
Byt
2.NP
2+kk
JV
57,8 m²
- / 50,5 m² / -
109,8 m²

7680000

CZK

Go to detail
F.3.01
ateliér
3.NP
1+kk
S
24,6 m²
- / - / -
27,6 m²

3530000

CZK

Go to detail
F.3.08
ateliér
3.NP
1+kk
S
23,7 m²
- / - / -
25,1 m²

3310000

CZK

Go to detail
F.3.10
ateliér
3.NP
1+kk
S
24,1 m²
- / - / -
26,1 m²

3470000

CZK

Go to detail
F.3.11
ateliér
3.NP
1+kk
S
30,3 m²
- / - / -
32 m²

4070000

CZK

Go to detail
F.4.01
ateliér
4.NP
1+kk
S
24,6 m²
- / - / -
26,1 m²

3530000

CZK

Go to detail
F.4.03
ateliér
4.NP
1+kk
S
23,7 m²
- / - / -
25,3 m²

3310000

CZK

Go to detail
F.4.11
ateliér
4.NP
1+kk
S
30,3 m²
- / - / -
32,3 m²

4080000

CZK

Go to detail
F.5.16
Byt
5.NP
2+kk
JV
57,8 m²
4,3 m² / - / -
64 m²

7320000

CZK

Go to detail
F.7.11
ateliér
7.NP
1+kk
S
30,3 m²
- / - / -
32,2 m²

4220000

CZK

Go to detail
F.8.04
ateliér
8.NP
2+kk
S
65,2 m²
- / 37,7 m² / -
104,4 m²

7950000

CZK

Go to detail
F.8.05
Byt
8.NP
3+kk
JV
88,4 m²
- / 21,9 m² + 17,1 m² / -
129,1 m²

11370000

CZK

Go to detail
F.1.02
obchodní jednotka
1.NP
-
ulice Bratislavská
m²
- / - / -
103,7 m²
Reserved
F.1.03
obchodní jednotka
1.NP
-
ulice Bratislavská
m²
- / - / -
91,7 m²
Reserved
F.1.04
obchodní jednotka
1.NP
-
ulice Bratislavská
m²
- / - / -
145,8 m²
Reserved
F.2.01
ateliér
2.NP
1+kk
S
24,6 m²
- / - / -
24,6 m²
Sold
F.2.02
ateliér
2.NP
1+kk
S
23,7 m²
- / - / -
23,7 m²
Sold
F.2.03
ateliér
2.NP
1+kk
S
23,7 m²
- / - / -
23,7 m²
Sold
F.2.04
ateliér
2.NP
1+kk
S
23,7 m²
- / - / -
23,7 m²
Sold
F.2.05
ateliér
2.NP
1+kk
S
23,7 m²
- / - / -
23,7 m²
Sold
F.2.06
ateliér
2.NP
1+kk
S
23,7 m²
- / - / -
23,7 m²
Sold
F.2.07
ateliér
2.NP
1+kk
S
23,7 m²
- / - / -
23,7 m²
Sold
F.2.08
ateliér
2.NP
1+kk
S
23,7 m²
- / - / -
23,7 m²
Sold
F.2.09
ateliér
2.NP
1+kk
S
23,7 m²
- / - / -
23,7 m²
Sold
F.2.10
ateliér
2.NP
1+kk
S
23,7 m²
- / - / -
23,7 m²
Sold
F.2.12
Byt
2.NP
1+kk
JV
35,3 m²
4,5 m² / - / -
41,5 m²
Sold
F.2.13
Byt
2.NP
1+kk
JV
39,1 m²
4,3 m² / - / -
48,6 m²
Sold
F.2.14
Byt
2.NP
2+kk
JV
48,3 m²
- / 31,6 m² / -
81,4 m²
Sold
F.2.15
Byt
2.NP
1+kk
JV
36 m²
- / 33,7 m² / -
71,6 m²
Sold
F.3.02
ateliér
3.NP
1+kk
S
23,7 m²
- / - / -
25,2 m²
Sold
F.3.03
ateliér
3.NP
1+kk
S
23,7 m²
- / - / -
25 m²
Sold
F.3.04
ateliér
3.NP
1+kk
S
23,7 m²
- / - / -
25,3 m²
Sold
F.3.05
ateliér
3.NP
1+kk
S
23,7 m²
- / - / -
25,2 m²
Sold
F.3.06
ateliér
3.NP
1+kk
S
23,7 m²
- / - / -
25,3 m²
Sold
F.3.07
ateliér
3.NP
1+kk
S
23,7 m²
- / - / -
25,2 m²
Sold
F.3.09
ateliér
3.NP
1+kk
S
23,7 m²
- / - / -
25,2 m²
Sold
F.3.12
Byt
3.NP
1+kk
JV
35,3 m²
4,4 m² / - / -
41,6 m²
Sold
F.3.13
Byt
3.NP
1+kk
JV
39,1 m²
4,3 m² / - / -
44,9 m²
Sold
F.3.14
Byt
3.NP
2+kk
JV
48,3 m²
4,3 m² / - / -
57,8 m²
Sold
F.3.15
Byt
3.NP
1+kk
JV
36 m²
4,3 m² / - / -
42,2 m²
Sold
F.3.16
Byt
3.NP
2+kk
JV
60,6 m²
4,3 m² / - / -
66,5 m²
Sold
F.4.02
ateliér
4.NP
1+kk
S
23,7 m²
- / - / -
25,3 m²
Sold
F.4.04
ateliér
4.NP
1+kk
S
23,7 m²
- / - / -
25,2 m²
Sold
F.4.05
ateliér
4.NP
1+kk
S
23,7 m²
- / - / -
25,2 m²
Reserved
F.4.06
ateliér
4.NP
1+kk
S
23,7 m²
- / - / -
25,4 m²
Sold
F.4.07
ateliér
4.NP
1+kk
S
23,7 m²
- / - / -
25,2 m²
Sold
F.4.08
ateliér
4.NP
1+kk
S
23,7 m²
- / - / -
25,3 m²
Sold
F.4.09
ateliér
4.NP
1+kk
S
23,7 m²
- / - / -
25,2 m²
Sold
F.4.10
ateliér
4.NP
1+kk
S
24,1 m²
- / - / -
25,7 m²
Sold
F.4.12
Byt
4.NP
1+kk
JV
35,3 m²
4,3 m² / - / -
41,5 m²
Sold
F.4.13
Byt
4.NP
1+kk
JV
39,1 m²
4,3 m² / - / -
48,6 m²
Sold
F.4.14
Byt
4.NP
2+kk
JV
48,3 m²
4,3 m² / - / -
54,1 m²
Sold
F.4.15
Byt
4.NP
1+kk
JV
36 m²
4,3 m² / - / -
42,2 m²
Sold
F.4.16
Byt
4.NP
2+kk
JV
60,3 m²
4,3 m² / - / -
66,2 m²
Sold
F.5.01
ateliér
5.NP
1+kk
S
24,6 m²
- / - / -
25,9 m²
Reserved
F.5.02
ateliér
5.NP
1+kk
S
23,7 m²
- / - / -
25 m²
Reserved
F.5.03
ateliér
5.NP
1+kk
S
23,7 m²
- / - / -
25 m²
Reserved
F.5.04
ateliér
5.NP
1+kk
S
23,7 m²
- / - / -
24,9 m²
Reserved
F.5.05
atelier
5.NP
1+kk
S
23,7 m²
- / - / -
24,9 m²
Reserved
F.5.06
ateliér
5.NP
1+kk
S
23,7 m²
- / - / -
24,9 m²
Reserved
F.5.07
ateliér
5.NP
1+kk
S
23,7 m²
- / - / -
24,9 m²
Reserved
F.5.08
ateliér
5.NP
1+kk
S
23,7 m²
- / - / -
25 m²
Reserved
F.5.09
ateliér
5.NP
1+kk
S
23,7 m²
- / - / -
25,1 m²
Reserved
F.5.10
ateliér
5.NP
1+kk
S
24,1 m²
- / - / -
25,4 m²
Reserved
F.5.11
ateliér
5.NP
1+kk
S
30,3 m²
- / - / -
31,6 m²
Reserved
F.5.12
Byt
5.NP
1+kk
JV
35,3 m²
4,3 m² / - / -
41,7 m²
Sold
F.5.13
Byt
5.NP
1+kk
JV
39,1 m²
4,3 m² / - / -
48,6 m²
Sold
F.5.14
Byt
5.NP
2+kk
JV
48,3 m²
4,3 m² / - / -
54,1 m²
Sold
F.5.15
Byt
5.NP
1+kk
JV
36 m²
4,3 m² / - / -
42,3 m²
Sold
F.6.01
ateliér
6.NP
1+kk
S
24,6 m²
- / - / -
26 m²
Reserved
F.6.02
ateliér
6.NP
1+kk
S
23,7 m²
- / - / -
25 m²
Reserved
F.6.03
ateliér
6.NP
1+kk
S
23,7 m²
- / - / -
24,9 m²
Reserved
F.6.04
ateliér
6.NP
1+kk
S
23,7 m²
- / - / -
24,9 m²
Reserved
F.6.05
ateliér
6.NP
1+kk
S
23,7 m²
- / - / -
24,9 m²
Sold
F.6.06
ateliér
6.NP
1+kk
S
23,7 m²
- / - / -
24,9 m²
Sold
F.6.07
ateliér
6.NP
1+kk
S
23,7 m²
- / - / -
25 m²
Sold
F.6.08
ateliér
6.NP
1+kk
S
23,7 m²
- / - / -
25,1 m²
Reserved
F.6.09
ateliér
6.NP
1+kk
S
23,7 m²
- / - / -
25 m²
Reserved
F.6.10
ateliér
6.NP
1+kk
S
24,1 m²
- / - / -
25,7 m²
Sold
F.6.11
ateliér
6.NP
1+kk
S
30,3 m²
- / - / -
31,9 m²
Reserved
F.6.12
Byt
6.NP
1+kk
JV
35,3 m²
4,3 m² / - / -
41,7 m²
Sold
F.6.13
Byt
6.NP
1+kk
JV
39,1 m²
4,3 m² / - / -
48,6 m²
Reserved
F.6.14
Byt
6.NP
2+kk
JV
48,3 m²
4,3 m² / - / -
54,1 m²
Sold
F.6.15
Byt
6.NP
1+kk
JV
36 m²
4,3 m² / - / -
42,3 m²
Sold
F.6.16
Byt
6.NP
2+kk
JV
57,8 m²
4,3 m² / - / -
64,9 m²
Sold
F.7.01
ateliér
7.NP
1+kk
S
24,6 m²
- / - / -
26,3 m²
Sold
F.7.02
ateliér
7.NP
1+kk
S
23,7 m²
- / - / -
25,1 m²
Sold
F.7.03
ateliér
7.NP
1+kk
S
23,7 m²
- / - / -
25,1 m²
Sold
F.7.04
ateliér
7.NP
1+kk
S
23,7 m²
- / - / -
25,1 m²
Sold
F.7.05
ateliér
7.NP
1+kk
S
23,7 m²
- / - / -
25,5 m²
Sold
F.7.06
ateliér
7.NP
1+kk
S
23,7 m²
- / - / -
26,5 m²
Sold
F.7.07
ateliér
7.NP
1+kk
S
23,7 m²
- / - / -
25,6 m²
Sold
F.7.08
ateliér
7.NP
1+kk
S
23,7 m²
- / - / -
25,6 m²
Sold
F.7.09
ateliér
7.NP
1+kk
S
23,7 m²
- / - / -
25,6 m²
Sold
F.7.10
ateliér
7.NP
1+kk
S
24,1 m²
- / - / -
26 m²
Sold
F.7.12
Byt
7.NP
1+kk
JV
35,3 m²
4,3 m² / - / -
41,2 m²
Sold
F.7.13
Byt
7.NP
1+kk
JV
39,1 m²
4,3 m² / - / -
48,6 m²
Sold
F.7.14
Byt
7.NP
2+kk
JV
48,3 m²
4,3 m² / - / -
54,1 m²
Sold
F.7.15
Byt
7.NP
1+kk
JV
36 m²
4,3 m² / - / -
41,9 m²
Sold
F.7.16
Byt
7.NP
2+kk
JV
57,8 m²
4,3 m² / - / -
64,4 m²
Sold
F.8.01
Byt
8.NP
3+kk
JZ
63,4 m²
- / 16,1 m² + 12,7 m² / -
93,9 m²
Sold
F.8.02
Byt
8.NP
3+kk
JV
83,7 m²
- / 22,6 m² + 16,3 m² / -
127,8 m²
Sold
F.8.03
Byt
8.NP
2+kk
JV
62,6 m²
- / 22 m² / -
86,3 m²
Sold

| Number | Type | The floor | Disposition | Orientation | Apartment area | Balcony / Terrace / Front garden | Total sales area | Price incl. VAT | |
| --- | --- | --- | --- | --- | --- | --- | --- | --- | --- |
| F.1.02 | obchodní jednotka | 1.NP | - | ulice Bratislavská | m² | - / - / - | 103,7 m² | Reserved | |
| F.1.03 | obchodní jednotka | 1.NP | - | ulice Bratislavská | m² | - / - / - | 91,7 m² | Reserved | |
| F.1.04 | obchodní jednotka | 1.NP | - | ulice Bratislavská | m² | - / - / - | 145,8 m² | Reserved | |

Number
Type
The floor
Disposition
Orientation
Apartment area
Balcony / Terrace / Front garden
Total sales area
Price incl. VAT
F.2.11
ateliér
2.NP
1+kk
S
29,9 m²
- / - / -
29,9 m²

4020000

CZK

Go to detail
F.2.16
Byt
2.NP
2+kk
JV
57,8 m²
- / 50,5 m² / -
109,8 m²

7680000

CZK

Go to detail
F.2.01
ateliér
2.NP
1+kk
S
24,6 m²
- / - / -
24,6 m²
Sold
F.2.02
ateliér
2.NP
1+kk
S
23,7 m²
- / - / -
23,7 m²
Sold
F.2.03
ateliér
2.NP
1+kk
S
23,7 m²
- / - / -
23,7 m²
Sold
F.2.04
ateliér
2.NP
1+kk
S
23,7 m²
- / - / -
23,7 m²
Sold
F.2.05
ateliér
2.NP
1+kk
S
23,7 m²
- / - / -
23,7 m²
Sold
F.2.06
ateliér
2.NP
1+kk
S
23,7 m²
- / - / -
23,7 m²
Sold
F.2.07
ateliér
2.NP
1+kk
S
23,7 m²
- / - / -
23,7 m²
Sold
F.2.08
ateliér
2.NP
1+kk
S
23,7 m²
- / - / -
23,7 m²
Sold
F.2.09
ateliér
2.NP
1+kk
S
23,7 m²
- / - / -
23,7 m²
Sold
F.2.10
ateliér
2.NP
1+kk
S
23,7 m²
- / - / -
23,7 m²
Sold
F.2.12
Byt
2.NP
1+kk
JV
35,3 m²
4,5 m² / - / -
41,5 m²
Sold
F.2.13
Byt
2.NP
1+kk
JV
39,1 m²
4,3 m² / - / -
48,6 m²
Sold
F.2.14
Byt
2.NP
2+kk
JV
48,3 m²
- / 31,6 m² / -
81,4 m²
Sold
F.2.15
Byt
2.NP
1+kk
JV
36 m²
- / 33,7 m² / -
71,6 m²
Sold

F.2.11 |

ateliér

| 1+kk | 29,9 m²

Balcony / Terrace / Front garden: - / - / -

Price incl. VAT :

4020000

CZK

F.2.16 |

Byt

| 2+kk | 109,8 m²

Balcony / Terrace / Front garden: - / 50,5 m² / -

Price incl. VAT :

7680000

CZK

Number
Type
The floor
Disposition
Orientation
Apartment area
Balcony / Terrace / Front garden
Total sales area
Price incl. VAT
F.3.01
ateliér
3.NP
1+kk
S
24,6 m²
- / - / -
27,6 m²

3530000

CZK

Go to detail
F.3.08
ateliér
3.NP
1+kk
S
23,7 m²
- / - / -
25,1 m²

3310000

CZK

Go to detail
F.3.10
ateliér
3.NP
1+kk
S
24,1 m²
- / - / -
26,1 m²

3470000

CZK

Go to detail
F.3.11
ateliér
3.NP
1+kk
S
30,3 m²
- / - / -
32 m²

4070000

CZK

Go to detail
F.3.02
ateliér
3.NP
1+kk
S
23,7 m²
- / - / -
25,2 m²
Sold
F.3.03
ateliér
3.NP
1+kk
S
23,7 m²
- / - / -
25 m²
Sold
F.3.04
ateliér
3.NP
1+kk
S
23,7 m²
- / - / -
25,3 m²
Sold
F.3.05
ateliér
3.NP
1+kk
S
23,7 m²
- / - / -
25,2 m²
Sold
F.3.06
ateliér
3.NP
1+kk
S
23,7 m²
- / - / -
25,3 m²
Sold
F.3.07
ateliér
3.NP
1+kk
S
23,7 m²
- / - / -
25,2 m²
Sold
F.3.09
ateliér
3.NP
1+kk
S
23,7 m²
- / - / -
25,2 m²
Sold
F.3.12
Byt
3.NP
1+kk
JV
35,3 m²
4,4 m² / - / -
41,6 m²
Sold
F.3.13
Byt
3.NP
1+kk
JV
39,1 m²
4,3 m² / - / -
44,9 m²
Sold
F.3.14
Byt
3.NP
2+kk
JV
48,3 m²
4,3 m² / - / -
57,8 m²
Sold
F.3.15
Byt
3.NP
1+kk
JV
36 m²
4,3 m² / - / -
42,2 m²
Sold
F.3.16
Byt
3.NP
2+kk
JV
60,6 m²
4,3 m² / - / -
66,5 m²
Sold

Number
Type
The floor
Disposition
Orientation
Apartment area
Balcony / Terrace / Front garden
Total sales area
Price incl. VAT
F.4.01
ateliér
4.NP
1+kk
S
24,6 m²
- / - / -
26,1 m²

3530000

CZK

Go to detail
F.4.03
ateliér
4.NP
1+kk
S
23,7 m²
- / - / -
25,3 m²

3310000

CZK

Go to detail
F.4.11
ateliér
4.NP
1+kk
S
30,3 m²
- / - / -
32,3 m²

4080000

CZK

Go to detail
F.4.02
ateliér
4.NP
1+kk
S
23,7 m²
- / - / -
25,3 m²
Sold
F.4.04
ateliér
4.NP
1+kk
S
23,7 m²
- / - / -
25,2 m²
Sold
F.4.05
ateliér
4.NP
1+kk
S
23,7 m²
- / - / -
25,2 m²
Reserved
F.4.06
ateliér
4.NP
1+kk
S
23,7 m²
- / - / -
25,4 m²
Sold
F.4.07
ateliér
4.NP
1+kk
S
23,7 m²
- / - / -
25,2 m²
Sold
F.4.08
ateliér
4.NP
1+kk
S
23,7 m²
- / - / -
25,3 m²
Sold
F.4.09
ateliér
4.NP
1+kk
S
23,7 m²
- / - / -
25,2 m²
Sold
F.4.10
ateliér
4.NP
1+kk
S
24,1 m²
- / - / -
25,7 m²
Sold
F.4.12
Byt
4.NP
1+kk
JV
35,3 m²
4,3 m² / - / -
41,5 m²
Sold
F.4.13
Byt
4.NP
1+kk
JV
39,1 m²
4,3 m² / - / -
48,6 m²
Sold
F.4.14
Byt
4.NP
2+kk
JV
48,3 m²
4,3 m² / - / -
54,1 m²
Sold
F.4.15
Byt
4.NP
1+kk
JV
36 m²
4,3 m² / - / -
42,2 m²
Sold
F.4.16
Byt
4.NP
2+kk
JV
60,3 m²
4,3 m² / - / -
66,2 m²
Sold

F.4.01 |

ateliér

| 1+kk | 26,1 m²

Balcony / Terrace / Front garden: - / - / -

Price incl. VAT :

3530000

CZK

F.4.03 |

ateliér

| 1+kk | 25,3 m²

Balcony / Terrace / Front garden: - / - / -

Price incl. VAT :

3310000

CZK

F.4.11 |

ateliér

| 1+kk | 32,3 m²

Balcony / Terrace / Front garden: - / - / -

Price incl. VAT :

4080000

CZK

Number
Type
The floor
Disposition
Orientation
Apartment area
Balcony / Terrace / Front garden
Total sales area
Price incl. VAT
F.5.16
Byt
5.NP
2+kk
JV
57,8 m²
4,3 m² / - / -
64 m²

7320000

CZK

Go to detail
F.5.01
ateliér
5.NP
1+kk
S
24,6 m²
- / - / -
25,9 m²
Reserved
F.5.02
ateliér
5.NP
1+kk
S
23,7 m²
- / - / -
25 m²
Reserved
F.5.03
ateliér
5.NP
1+kk
S
23,7 m²
- / - / -
25 m²
Reserved
F.5.04
ateliér
5.NP
1+kk
S
23,7 m²
- / - / -
24,9 m²
Reserved
F.5.05
atelier
5.NP
1+kk
S
23,7 m²
- / - / -
24,9 m²
Reserved
F.5.06
ateliér
5.NP
1+kk
S
23,7 m²
- / - / -
24,9 m²
Reserved
F.5.07
ateliér
5.NP
1+kk
S
23,7 m²
- / - / -
24,9 m²
Reserved
F.5.08
ateliér
5.NP
1+kk
S
23,7 m²
- / - / -
25 m²
Reserved
F.5.09
ateliér
5.NP
1+kk
S
23,7 m²
- / - / -
25,1 m²
Reserved
F.5.10
ateliér
5.NP
1+kk
S
24,1 m²
- / - / -
25,4 m²
Reserved
F.5.11
ateliér
5.NP
1+kk
S
30,3 m²
- / - / -
31,6 m²
Reserved
F.5.12
Byt
5.NP
1+kk
JV
35,3 m²
4,3 m² / - / -
41,7 m²
Sold
F.5.13
Byt
5.NP
1+kk
JV
39,1 m²
4,3 m² / - / -
48,6 m²
Sold
F.5.14
Byt
5.NP
2+kk
JV
48,3 m²
4,3 m² / - / -
54,1 m²
Sold
F.5.15
Byt
5.NP
1+kk
JV
36 m²
4,3 m² / - / -
42,3 m²
Sold

F.5.16 |

Byt

| 2+kk | 64 m²

Balcony / Terrace / Front garden: 4,3 m² / - / -

Price incl. VAT :

7320000

CZK

| Number | Type | The floor | Disposition | Orientation | Apartment area | Balcony / Terrace / Front garden | Total sales area | Price incl. VAT | |
| --- | --- | --- | --- | --- | --- | --- | --- | --- | --- |
| F.6.01 | ateliér | 6.NP | 1+kk | S | 24,6 m² | - / - / - | 26 m² | Reserved | |
| F.6.02 | ateliér | 6.NP | 1+kk | S | 23,7 m² | - / - / - | 25 m² | Reserved | |
| F.6.03 | ateliér | 6.NP | 1+kk | S | 23,7 m² | - / - / - | 24,9 m² | Reserved | |
| F.6.04 | ateliér | 6.NP | 1+kk | S | 23,7 m² | - / - / - | 24,9 m² | Reserved | |
| F.6.05 | ateliér | 6.NP | 1+kk | S | 23,7 m² | - / - / - | 24,9 m² | Sold | |
| F.6.06 | ateliér | 6.NP | 1+kk | S | 23,7 m² | - / - / - | 24,9 m² | Sold | |
| F.6.07 | ateliér | 6.NP | 1+kk | S | 23,7 m² | - / - / - | 25 m² | Sold | |
| F.6.08 | ateliér | 6.NP | 1+kk | S | 23,7 m² | - / - / - | 25,1 m² | Reserved | |
| F.6.09 | ateliér | 6.NP | 1+kk | S | 23,7 m² | - / - / - | 25 m² | Reserved | |
| F.6.10 | ateliér | 6.NP | 1+kk | S | 24,1 m² | - / - / - | 25,7 m² | Sold | |
| F.6.11 | ateliér | 6.NP | 1+kk | S | 30,3 m² | - / - / - | 31,9 m² | Reserved | |
| F.6.12 | Byt | 6.NP | 1+kk | JV | 35,3 m² | 4,3 m² / - / - | 41,7 m² | Sold | |
| F.6.13 | Byt | 6.NP | 1+kk | JV | 39,1 m² | 4,3 m² / - / - | 48,6 m² | Reserved | |
| F.6.14 | Byt | 6.NP | 2+kk | JV | 48,3 m² | 4,3 m² / - / - | 54,1 m² | Sold | |
| F.6.15 | Byt | 6.NP | 1+kk | JV | 36 m² | 4,3 m² / - / - | 42,3 m² | Sold | |
| F.6.16 | Byt | 6.NP | 2+kk | JV | 57,8 m² | 4,3 m² / - / - | 64,9 m² | Sold | |

Number
Type
The floor
Disposition
Orientation
Apartment area
Balcony / Terrace / Front garden
Total sales area
Price incl. VAT
F.7.11
ateliér
7.NP
1+kk
S
30,3 m²
- / - / -
32,2 m²

4220000

CZK

Go to detail
F.7.01
ateliér
7.NP
1+kk
S
24,6 m²
- / - / -
26,3 m²
Sold
F.7.02
ateliér
7.NP
1+kk
S
23,7 m²
- / - / -
25,1 m²
Sold
F.7.03
ateliér
7.NP
1+kk
S
23,7 m²
- / - / -
25,1 m²
Sold
F.7.04
ateliér
7.NP
1+kk
S
23,7 m²
- / - / -
25,1 m²
Sold
F.7.05
ateliér
7.NP
1+kk
S
23,7 m²
- / - / -
25,5 m²
Sold
F.7.06
ateliér
7.NP
1+kk
S
23,7 m²
- / - / -
26,5 m²
Sold
F.7.07
ateliér
7.NP
1+kk
S
23,7 m²
- / - / -
25,6 m²
Sold
F.7.08
ateliér
7.NP
1+kk
S
23,7 m²
- / - / -
25,6 m²
Sold
F.7.09
ateliér
7.NP
1+kk
S
23,7 m²
- / - / -
25,6 m²
Sold
F.7.10
ateliér
7.NP
1+kk
S
24,1 m²
- / - / -
26 m²
Sold
F.7.12
Byt
7.NP
1+kk
JV
35,3 m²
4,3 m² / - / -
41,2 m²
Sold
F.7.13
Byt
7.NP
1+kk
JV
39,1 m²
4,3 m² / - / -
48,6 m²
Sold
F.7.14
Byt
7.NP
2+kk
JV
48,3 m²
4,3 m² / - / -
54,1 m²
Sold
F.7.15
Byt
7.NP
1+kk
JV
36 m²
4,3 m² / - / -
41,9 m²
Sold
F.7.16
Byt
7.NP
2+kk
JV
57,8 m²
4,3 m² / - / -
64,4 m²
Sold

F.7.11 |

ateliér

| 1+kk | 32,2 m²

Balcony / Terrace / Front garden: - / - / -

Price incl. VAT :

4220000

CZK

Number
Type
The floor
Disposition
Orientation
Apartment area
Balcony / Terrace / Front garden
Total sales area
Price incl. VAT
F.8.04
ateliér
8.NP
2+kk
S
65,2 m²
- / 37,7 m² / -
104,4 m²

7950000

CZK

Go to detail
F.8.05
Byt
8.NP
3+kk
JV
88,4 m²
- / 21,9 m² + 17,1 m² / -
129,1 m²

11370000

CZK

Go to detail
F.8.01
Byt
8.NP
3+kk
JZ
63,4 m²
- / 16,1 m² + 12,7 m² / -
93,9 m²
Sold
F.8.02
Byt
8.NP
3+kk
JV
83,7 m²
- / 22,6 m² + 16,3 m² / -
127,8 m²
Sold
F.8.03
Byt
8.NP
2+kk
JV
62,6 m²
- / 22 m² / -
86,3 m²
Sold

F.8.04 |

ateliér

| 2+kk | 104,4 m²

Balcony / Terrace / Front garden: - / 37,7 m² / -

Price incl. VAT :

7950000

CZK

F.8.05 |

Byt

| 3+kk | 129,1 m²

Balcony / Terrace / Front garden: - / 21,9 m² + 17,1 m² / -

Price incl. VAT :

11370000

CZK

Number
Type
The floor
Disposition
Orientation
Apartment area
Balcony / Terrace / Front garden
Total sales area
Price incl. VAT
E.2.01
ateliér
2.NP
2+kk
SZ
40,1 m²
- / - / -
41,5 m²

5560000

CZK

Go to detail
E.3.01
ateliér
3.NP
2+kk
SZ
40,1 m²
- / - / -
41,8 m²

5640000

CZK

Go to detail
E.4.01
ateliér
4.NP
2+kk
SZ
42,3 m²
- / - / -
43,8 m²

5720000

CZK

Go to detail
E.5.01
ateliér
5.NP
2+kk
SZ
42,3 m²
- / - / -
43,8 m²

5810000

CZK

Go to detail
E.6.02
ateliér
6.NP
1+kk
SV
36,9 m²
4,7 m² / - / -
43,4 m²

5390000

CZK

Go to detail
E.1.02
byt
1.NP
1+kk
JV
33,3 m²
- / - / 20,2 m²
54,8 m²
Sold
E.1.03
ateliér
1.NP
1+kk
JV
38 m²
- / - / 15,8 m²
55,4 m²
Reserved
E.2.02
ateliér
2.NP
1+kk
SV
37 m²
4,7 m² / - / -
42,8 m²
Sold
E.2.03
byt
2.NP
2+kk
JV
55 m²
- / 36,8 m² / -
92,2 m²
Sold
E.2.04
byt
2.NP
1+kk
JV
40 m²
4,7 m² / - / -
46,5 m²
Sold
E.2.05
byt
2.NP
1+kk
JV
37,5 m²
4,7 m² / - / -
44,1 m²
Sold
E.2.06
byt
2.NP
2+kk
JV
54,4 m²
6,1 m² / - / -
61,9 m²
Sold
E.3.02
ateliér
3.NP
1+kk
SV
35 m²
4,7 m² / - / -
41,5 m²
Sold
E.3.03
byt
3.NP
2+kk
JV
55 m²
10,1 m² / - / -
63,2 m²
Sold
E.3.04
byt
3.NP
1+kk
JV
38,2 m²
4,7 m² / - / -
44,7 m²
Sold
E.3.05
byt
3.NP
1+kk
JV
35,7 m²
4,7 m² / - / -
42,2 m²
Sold
E.3.06
byt
3.NP
2+kk
JV
54,9 m²
6,1 m² / - / -
62,7 m²
Sold
E.4.02
ateliér
4.NP
1+kk
SV
36,9 m²
4,7 m² / - / -
43,4 m²
Sold
E.4.03
byt
4.NP
2+kk
JV
55 m²
10,1 m² / - / -
66,6 m²
Sold
E.4.04
byt
4.NP
1+kk
JV
40 m²
4,7 m² / - / -
46,5 m²
Sold
E.4.05
byt
4.NP
1+kk
JV
37,5 m²
4,7 m² / - / -
44 m²
Sold
E.4.06
byt
4.NP
2+kk
JV
54,9 m²
6,1 m² / - / -
62,5 m²
Sold
E.5.02
ateliér
5.NP
1+kk
SV
36,9 m²
4,7 m² / - / -
43,4 m²
Sold
E.5.03
byt
5.NP
2+kk
JV
55 m²
10,1 m² / - / -
66,6 m²
Sold
E.5.04
byt
5.NP
1+kk
JV
40 m²
4,7 m² / - / -
46,7 m²
Sold
E.5.05
byt
5.NP
1+kk
JV
37,5 m²
4,7 m² / - / -
44,4 m²
Sold
E.5.06
byt
5.NP
2+kk
JV
54,4 m²
6,1 m² / - / -
62 m²
Sold
E.6.01
ateliér
6.NP
2+kk
SZ
42,3 m²
- / - / -
43,8 m²
Sold
E.6.03
byt
6.NP
2+kk
JV
55 m²
10,1 m² / - / -
66,6 m²
Sold
E.6.04
byt
6.NP
1+kk
JV
40 m²
4,7 m² / - / -
46,7 m²
Sold
E.6.05
byt
6.NP
1+kk
JV
37,5 m²
4,7 m² / - / -
44,3 m²
Sold
E.6.06
byt
6.NP
2+kk
JV
54,2 m²
6,1 m² / - / -
62 m²
Sold
E.7.01
Byt (mezonet)
7.NP + 8.NP
4+kk
JZ
116,3 m²
- / 8,7 m² + 28,2 m² + 9,6 m² / -
165,8 m²
Sold
E.7.02
Byt (mezonet)
7.NP + 8.NP
3+kk
JV
85,3 m²
- / 9,6 m² + 7,5 m² / -
105,4 m²
Sold
E.7.03
Byt (mezonet)
7.NP + 8.NP
3+kk
SV
99,9 m²
3,5 m² / 52,8 m² + 11,5 m² / -
170,6 m²
Sold

| Number | Type | The floor | Disposition | Orientation | Apartment area | Balcony / Terrace / Front garden | Total sales area | Price incl. VAT | |
| --- | --- | --- | --- | --- | --- | --- | --- | --- | --- |
| E.1.02 | byt | 1.NP | 1+kk | JV | 33,3 m² | - / - / 20,2 m² | 54,8 m² | Sold | |
| E.1.03 | ateliér | 1.NP | 1+kk | JV | 38 m² | - / - / 15,8 m² | 55,4 m² | Reserved | |

Number
Type
The floor
Disposition
Orientation
Apartment area
Balcony / Terrace / Front garden
Total sales area
Price incl. VAT
E.2.01
ateliér
2.NP
2+kk
SZ
40,1 m²
- / - / -
41,5 m²

5560000

CZK

Go to detail
E.2.02
ateliér
2.NP
1+kk
SV
37 m²
4,7 m² / - / -
42,8 m²
Sold
E.2.03
byt
2.NP
2+kk
JV
55 m²
- / 36,8 m² / -
92,2 m²
Sold
E.2.04
byt
2.NP
1+kk
JV
40 m²
4,7 m² / - / -
46,5 m²
Sold
E.2.05
byt
2.NP
1+kk
JV
37,5 m²
4,7 m² / - / -
44,1 m²
Sold
E.2.06
byt
2.NP
2+kk
JV
54,4 m²
6,1 m² / - / -
61,9 m²
Sold

E.2.01 |

ateliér

| 2+kk | 41,5 m²

Balcony / Terrace / Front garden: - / - / -

Price incl. VAT :

5560000

CZK

Number
Type
The floor
Disposition
Orientation
Apartment area
Balcony / Terrace / Front garden
Total sales area
Price incl. VAT
E.3.01
ateliér
3.NP
2+kk
SZ
40,1 m²
- / - / -
41,8 m²

5640000

CZK

Go to detail
E.3.02
ateliér
3.NP
1+kk
SV
35 m²
4,7 m² / - / -
41,5 m²
Sold
E.3.03
byt
3.NP
2+kk
JV
55 m²
10,1 m² / - / -
63,2 m²
Sold
E.3.04
byt
3.NP
1+kk
JV
38,2 m²
4,7 m² / - / -
44,7 m²
Sold
E.3.05
byt
3.NP
1+kk
JV
35,7 m²
4,7 m² / - / -
42,2 m²
Sold
E.3.06
byt
3.NP
2+kk
JV
54,9 m²
6,1 m² / - / -
62,7 m²
Sold

E.3.01 |

ateliér

| 2+kk | 41,8 m²

Balcony / Terrace / Front garden: - / - / -

Price incl. VAT :

5640000

CZK

Number
Type
The floor
Disposition
Orientation
Apartment area
Balcony / Terrace / Front garden
Total sales area
Price incl. VAT
E.4.01
ateliér
4.NP
2+kk
SZ
42,3 m²
- / - / -
43,8 m²

5720000

CZK

Go to detail
E.4.02
ateliér
4.NP
1+kk
SV
36,9 m²
4,7 m² / - / -
43,4 m²
Sold
E.4.03
byt
4.NP
2+kk
JV
55 m²
10,1 m² / - / -
66,6 m²
Sold
E.4.04
byt
4.NP
1+kk
JV
40 m²
4,7 m² / - / -
46,5 m²
Sold
E.4.05
byt
4.NP
1+kk
JV
37,5 m²
4,7 m² / - / -
44 m²
Sold
E.4.06
byt
4.NP
2+kk
JV
54,9 m²
6,1 m² / - / -
62,5 m²
Sold

E.4.01 |

ateliér

| 2+kk | 43,8 m²

Balcony / Terrace / Front garden: - / - / -

Price incl. VAT :

5720000

CZK

Number
Type
The floor
Disposition
Orientation
Apartment area
Balcony / Terrace / Front garden
Total sales area
Price incl. VAT
E.5.01
ateliér
5.NP
2+kk
SZ
42,3 m²
- / - / -
43,8 m²

5810000

CZK

Go to detail
E.5.02
ateliér
5.NP
1+kk
SV
36,9 m²
4,7 m² / - / -
43,4 m²
Sold
E.5.03
byt
5.NP
2+kk
JV
55 m²
10,1 m² / - / -
66,6 m²
Sold
E.5.04
byt
5.NP
1+kk
JV
40 m²
4,7 m² / - / -
46,7 m²
Sold
E.5.05
byt
5.NP
1+kk
JV
37,5 m²
4,7 m² / - / -
44,4 m²
Sold
E.5.06
byt
5.NP
2+kk
JV
54,4 m²
6,1 m² / - / -
62 m²
Sold

E.5.01 |

ateliér

| 2+kk | 43,8 m²

Balcony / Terrace / Front garden: - / - / -

Price incl. VAT :

5810000

CZK

Number
Type
The floor
Disposition
Orientation
Apartment area
Balcony / Terrace / Front garden
Total sales area
Price incl. VAT
E.6.02
ateliér
6.NP
1+kk
SV
36,9 m²
4,7 m² / - / -
43,4 m²

5390000

CZK

Go to detail
E.6.01
ateliér
6.NP
2+kk
SZ
42,3 m²
- / - / -
43,8 m²
Sold
E.6.03
byt
6.NP
2+kk
JV
55 m²
10,1 m² / - / -
66,6 m²
Sold
E.6.04
byt
6.NP
1+kk
JV
40 m²
4,7 m² / - / -
46,7 m²
Sold
E.6.05
byt
6.NP
1+kk
JV
37,5 m²
4,7 m² / - / -
44,3 m²
Sold
E.6.06
byt
6.NP
2+kk
JV
54,2 m²
6,1 m² / - / -
62 m²
Sold

E.6.02 |

ateliér

| 1+kk | 43,4 m²

Balcony / Terrace / Front garden: 4,7 m² / - / -

Price incl. VAT :

5390000

CZK

| Number | Type | The floor | Disposition | Orientation | Apartment area | Balcony / Terrace / Front garden | Total sales area | Price incl. VAT | |
| --- | --- | --- | --- | --- | --- | --- | --- | --- | --- |
| E.7.01 | Byt (mezonet) | 7.NP + 8.NP | 4+kk | JZ | 116,3 m² | - / 8,7 m² + 28,2 m² + 9,6 m² / - | 165,8 m² | Sold | |
| E.7.02 | Byt (mezonet) | 7.NP + 8.NP | 3+kk | JV | 85,3 m² | - / 9,6 m² + 7,5 m² / - | 105,4 m² | Sold | |
| E.7.03 | Byt (mezonet) | 7.NP + 8.NP | 3+kk | SV | 99,9 m² | 3,5 m² / 52,8 m² + 11,5 m² / - | 170,6 m² | Sold | |

Number
Type
The floor
Disposition
Orientation
Apartment area
Balcony / Terrace / Front garden
Total sales area
Price incl. VAT
K.1.01
ateliér
1.NP
1+kk
S
37 m²
- / - / 20,2 m²
58,5 m²

4890000

CZK

Go to detail
K.1.02
ateliér
1.NP
1+kk
S
41,2 m²
- / - / 19,5 m²
62,2 m²

5290000

CZK

Go to detail
K.1.03
ateliér
1.NP
1+kk
S
45 m²
- / - / 23,1 m²
69,6 m²

5690000

CZK

Go to detail
K.1.04
byt
1.NP
1+kk
JV
35,7 m²
- / - / 20,9 m²
58,2 m²

4920000

CZK

Go to detail
K.1.05
byt
1.NP
1+kk
JV
38,8 m²
- / - / 20,4 m²
60,7 m²

5350000

CZK

Go to detail
K.1.06
byt
1.NP
1+kk
JV
40,1 m²
- / - / 22,9 m²
64,5 m²

5530000

CZK

Go to detail
K.2.01
ateliér
2.NP
2+kk
S
63,1 m²
7 m² / - / -
71,7 m²

7590000

CZK

Go to detail
K.2.02
ateliér
2.NP
1+kk
S
39,4 m²
4,3 m² / - / -
45,2 m²

4840000

CZK

Go to detail
K.2.03
ateliér
2.NP
1+kk
S
43,6 m²
4,3 m² / - / -
49,4 m²

5290000

CZK

Go to detail
K.2.06
byt
2.NP
1+kk
JV
38,2 m²
4,3 m² / - / -
44 m²

4990000

CZK

Go to detail
K.2.07
byt
2.NP
1+kk
JV
41,2 m²
4,3 m² / - / -
47 m²

5370000

CZK

Go to detail
K.2.08
byt
2.NP
1+kk
JV
34 m²
8,2 m² / - / -
43,5 m²

4640000

CZK

Go to detail
K.3.02
ateliér
3.NP
1+kk
S
39,4 m²
4,3 m² / - / -
45,1 m²

4920000

CZK

Go to detail
K.3.03
ateliér
3.NP
1+kk
S
43,6 m²
4,3 m² / - / -
49,3 m²

5350000

CZK

Go to detail
K.3.07
byt
3.NP
1+kk
JV
41,2 m²
4,3 m² / - / -
47,1 m²

5450000

CZK

Go to detail
K.4.03
ateliér
4.NP
1+kk
S
43,6 m²
4,3 m² / - / -
49,5 m²

5430000

CZK

Go to detail
K.4.04
ateliér
4.NP
1+kk
S
38,3 m²
8,6 m² / - / -
48,3 m²

4790000

CZK

Go to detail
K.4.07
byt
4.NP
1+kk
JV
41,2 m²
4,3 m² / - / -
47,2 m²

5570000

CZK

Go to detail
K.5.03
ateliér
5.NP
1+kk
S
43,6 m²
4,3 m² / - / -
49,4 m²

5510000

CZK

Go to detail
K.5.04
ateliér
5.NP
1+kk
S
38,3 m²
8,6 m² / - / -
48,4 m²

4860000

CZK

Go to detail
K.5.05
byt
5.NP
2+kk
JV
56,4 m²
4,3 m² / - / -
62,4 m²

7190000

CZK

Go to detail
K.5.07
byt
5.NP
1+kk
JV
41,2 m²
4,3 m² / - / -
47,5 m²

5650000

CZK

Go to detail
K.6.01
byt
6.NP
2+kk
SZ
63,1 m²
7 m² / - / -
72,1 m²

7990000

CZK

Go to detail
K.6.02
ateliér
6.NP
1+kk
S
39,4 m²
4,3 m² / - / -
45 m²

5070000

CZK

Go to detail
K.6.03
ateliér
6.NP
3+kk
S
83,3 m²
8,6 m² + 4,3 m² / - / -
98,4 m²

9910000

CZK

Go to detail
K.6.04
byt
6.NP
2+kk
JV
56,4 m²
4,3 m² / - / -
63,1 m²

7390000

CZK

Go to detail
K.9.01
byt
9.NP
3+kk
SZ
105,5 m²
- / 11,2 m² + 4,6 m² + 3 m² / -
122,8 m²

14790000

CZK

Go to detail
K.9.02
byt
9.NP
4+kk
JV
107,7 m²
- / 2,5 m² + 10,5 m² / -
122,2 m²

14890000

CZK

Go to detail
K.2.04
ateliér
2.NP
1+kk
S
38,3 m²
8,6 m² / - / -
48,4 m²
Sold
K.2.05
byt
2.NP
2+kk
JZ
56,4 m²
4,3 m² / - / -
62,3 m²
Sold
K.3.01
byt
3.NP
2+kk
S
63,1 m²
7 m² / - / -
71,7 m²
Sold
K.3.04
ateliér
3.NP
1+kk
S
38,3 m²
8,6 m² / - / -
48,3 m²
Sold
K.3.05
byt
3.NP
2+kk
JZ
56,4 m²
4,3 m² / - / -
62,4 m²
Sold
K.3.06
byt
3.NP
1+kk
JV
38,2 m²
4,3 m² / - / -
44,1 m²
Sold
K.3.08
byt
3.NP
1+kk
JV
34 m²
8,2 m² / - / -
43,8 m²
Sold
K.4.01
byt
4.NP
2+kk
S
63,1 m²
7 m² / - / -
72 m²
Sold
K.4.02
ateliér
4.NP
1+kk
S
39,4 m²
4,3 m² / - / -
45,1 m²
Sold
K.4.05
byt
4.NP
2+kk
JZ
56,4 m²
4,3 m² / - / -
62,4 m²
Sold
K.4.06
byt
4.NP
1+kk
JV
38,2 m²
4,3 m² / - / -
44,1 m²
Sold
K.4.08
byt
4.NP
1+kk
JV
34 m²
8,2 m² / - / -
43,7 m²
Sold
K.5.01
byt
5.NP
2+kk
S
63,1 m²
7 m² / - / -
71,8 m²
Sold
K.5.02
ateliér
5.NP
1+kk
S
39,4 m²
4,3 m² / - / -
45,2 m²
Sold
K.5.06
byt
5.NP
1+kk
JV
38,2 m²
4,3 m² / - / -
44,1 m²
Sold
K.5.08
byt
5.NP
1+kk
JV
34 m²
8,2 m² / - / -
43,8 m²
Sold
K.6.05
byt
6.NP
1+kk
JV
38,2 m²
4,3 m² / - / -
44,5 m²
Sold
K.6.06
byt
6.NP
3+kk
JV
77,2 m²
7,7 m² + 4,3 m² / - / -
92 m²
Sold
K.7.01
byt
7.NP
2+kk
SZ
73,9 m²
- / 35,5 m² + 15,8 m² / -
126,7 m²
Sold
K.7.02
byt
7.NP
4+kk
JV
108,5 m²
- / 13 m² + 22,1 m² + 11,1 m² / -
156,2 m²
Sold
K.7.03
ateliér
7.NP
1+kk
S
32,8 m²
- / 12,7 m² / -
46,8 m²
Sold
K.8.01
byt
8.NP
2+kk
SZ
72,3 m²
12,6 m² / - / -
86,4 m²
Sold
K.8.02
byt
8.NP
2+kk
JV
70,5 m²
12,1 m² / - / -
85 m²
Sold
K.8.03
byt
8.NP
1+kk
JV
40,5 m²
3 m² / - / -
45,5 m²
Sold
K.8.04
ateliér
8.NP
1+kk
SZ
31,8 m²
5,5 m² / - / -
38,6 m²
Sold

Number
Type
The floor
Disposition
Orientation
Apartment area
Balcony / Terrace / Front garden
Total sales area
Price incl. VAT
K.1.01
ateliér
1.NP
1+kk
S
37 m²
- / - / 20,2 m²
58,5 m²

4890000

CZK

Go to detail
K.1.02
ateliér
1.NP
1+kk
S
41,2 m²
- / - / 19,5 m²
62,2 m²

5290000

CZK

Go to detail
K.1.03
ateliér
1.NP
1+kk
S
45 m²
- / - / 23,1 m²
69,6 m²

5690000

CZK

Go to detail
K.1.04
byt
1.NP
1+kk
JV
35,7 m²
- / - / 20,9 m²
58,2 m²

4920000

CZK

Go to detail
K.1.05
byt
1.NP
1+kk
JV
38,8 m²
- / - / 20,4 m²
60,7 m²

5350000

CZK

Go to detail
K.1.06
byt
1.NP
1+kk
JV
40,1 m²
- / - / 22,9 m²
64,5 m²

5530000

CZK

Go to detail

Number
Type
The floor
Disposition
Orientation
Apartment area
Balcony / Terrace / Front garden
Total sales area
Price incl. VAT
K.2.01
ateliér
2.NP
2+kk
S
63,1 m²
7 m² / - / -
71,7 m²

7590000

CZK

Go to detail
K.2.02
ateliér
2.NP
1+kk
S
39,4 m²
4,3 m² / - / -
45,2 m²

4840000

CZK

Go to detail
K.2.03
ateliér
2.NP
1+kk
S
43,6 m²
4,3 m² / - / -
49,4 m²

5290000

CZK

Go to detail
K.2.06
byt
2.NP
1+kk
JV
38,2 m²
4,3 m² / - / -
44 m²

4990000

CZK

Go to detail
K.2.07
byt
2.NP
1+kk
JV
41,2 m²
4,3 m² / - / -
47 m²

5370000

CZK

Go to detail
K.2.08
byt
2.NP
1+kk
JV
34 m²
8,2 m² / - / -
43,5 m²

4640000

CZK

Go to detail
K.2.04
ateliér
2.NP
1+kk
S
38,3 m²
8,6 m² / - / -
48,4 m²
Sold
K.2.05
byt
2.NP
2+kk
JZ
56,4 m²
4,3 m² / - / -
62,3 m²
Sold

Number
Type
The floor
Disposition
Orientation
Apartment area
Balcony / Terrace / Front garden
Total sales area
Price incl. VAT
K.3.02
ateliér
3.NP
1+kk
S
39,4 m²
4,3 m² / - / -
45,1 m²

4920000

CZK

Go to detail
K.3.03
ateliér
3.NP
1+kk
S
43,6 m²
4,3 m² / - / -
49,3 m²

5350000

CZK

Go to detail
K.3.07
byt
3.NP
1+kk
JV
41,2 m²
4,3 m² / - / -
47,1 m²

5450000

CZK

Go to detail
K.3.01
byt
3.NP
2+kk
S
63,1 m²
7 m² / - / -
71,7 m²
Sold
K.3.04
ateliér
3.NP
1+kk
S
38,3 m²
8,6 m² / - / -
48,3 m²
Sold
K.3.05
byt
3.NP
2+kk
JZ
56,4 m²
4,3 m² / - / -
62,4 m²
Sold
K.3.06
byt
3.NP
1+kk
JV
38,2 m²
4,3 m² / - / -
44,1 m²
Sold
K.3.08
byt
3.NP
1+kk
JV
34 m²
8,2 m² / - / -
43,8 m²
Sold

K.3.02 |

ateliér

| 1+kk | 45,1 m²

Balcony / Terrace / Front garden: 4,3 m² / - / -

Price incl. VAT :

4920000

CZK

K.3.03 |

ateliér

| 1+kk | 49,3 m²

Balcony / Terrace / Front garden: 4,3 m² / - / -

Price incl. VAT :

5350000

CZK

K.3.07 |

byt

| 1+kk | 47,1 m²

Balcony / Terrace / Front garden: 4,3 m² / - / -

Price incl. VAT :

5450000

CZK

Number
Type
The floor
Disposition
Orientation
Apartment area
Balcony / Terrace / Front garden
Total sales area
Price incl. VAT
K.4.03
ateliér
4.NP
1+kk
S
43,6 m²
4,3 m² / - / -
49,5 m²

5430000

CZK

Go to detail
K.4.04
ateliér
4.NP
1+kk
S
38,3 m²
8,6 m² / - / -
48,3 m²

4790000

CZK

Go to detail
K.4.07
byt
4.NP
1+kk
JV
41,2 m²
4,3 m² / - / -
47,2 m²

5570000

CZK

Go to detail
K.4.01
byt
4.NP
2+kk
S
63,1 m²
7 m² / - / -
72 m²
Sold
K.4.02
ateliér
4.NP
1+kk
S
39,4 m²
4,3 m² / - / -
45,1 m²
Sold
K.4.05
byt
4.NP
2+kk
JZ
56,4 m²
4,3 m² / - / -
62,4 m²
Sold
K.4.06
byt
4.NP
1+kk
JV
38,2 m²
4,3 m² / - / -
44,1 m²
Sold
K.4.08
byt
4.NP
1+kk
JV
34 m²
8,2 m² / - / -
43,7 m²
Sold

K.4.03 |

ateliér

| 1+kk | 49,5 m²

Balcony / Terrace / Front garden: 4,3 m² / - / -

Price incl. VAT :

5430000

CZK

K.4.04 |

ateliér

| 1+kk | 48,3 m²

Balcony / Terrace / Front garden: 8,6 m² / - / -

Price incl. VAT :

4790000

CZK

K.4.07 |

byt

| 1+kk | 47,2 m²

Balcony / Terrace / Front garden: 4,3 m² / - / -

Price incl. VAT :

5570000

CZK

Number
Type
The floor
Disposition
Orientation
Apartment area
Balcony / Terrace / Front garden
Total sales area
Price incl. VAT
K.5.03
ateliér
5.NP
1+kk
S
43,6 m²
4,3 m² / - / -
49,4 m²

5510000

CZK

Go to detail
K.5.04
ateliér
5.NP
1+kk
S
38,3 m²
8,6 m² / - / -
48,4 m²

4860000

CZK

Go to detail
K.5.05
byt
5.NP
2+kk
JV
56,4 m²
4,3 m² / - / -
62,4 m²

7190000

CZK

Go to detail
K.5.07
byt
5.NP
1+kk
JV
41,2 m²
4,3 m² / - / -
47,5 m²

5650000

CZK

Go to detail
K.5.01
byt
5.NP
2+kk
S
63,1 m²
7 m² / - / -
71,8 m²
Sold
K.5.02
ateliér
5.NP
1+kk
S
39,4 m²
4,3 m² / - / -
45,2 m²
Sold
K.5.06
byt
5.NP
1+kk
JV
38,2 m²
4,3 m² / - / -
44,1 m²
Sold
K.5.08
byt
5.NP
1+kk
JV
34 m²
8,2 m² / - / -
43,8 m²
Sold

Number
Type
The floor
Disposition
Orientation
Apartment area
Balcony / Terrace / Front garden
Total sales area
Price incl. VAT
K.6.01
byt
6.NP
2+kk
SZ
63,1 m²
7 m² / - / -
72,1 m²

7990000

CZK

Go to detail
K.6.02
ateliér
6.NP
1+kk
S
39,4 m²
4,3 m² / - / -
45 m²

5070000

CZK

Go to detail
K.6.03
ateliér
6.NP
3+kk
S
83,3 m²
8,6 m² + 4,3 m² / - / -
98,4 m²

9910000

CZK

Go to detail
K.6.04
byt
6.NP
2+kk
JV
56,4 m²
4,3 m² / - / -
63,1 m²

7390000

CZK

Go to detail
K.6.05
byt
6.NP
1+kk
JV
38,2 m²
4,3 m² / - / -
44,5 m²
Sold
K.6.06
byt
6.NP
3+kk
JV
77,2 m²
7,7 m² + 4,3 m² / - / -
92 m²
Sold

| Number | Type | The floor | Disposition | Orientation | Apartment area | Balcony / Terrace / Front garden | Total sales area | Price incl. VAT | |
| --- | --- | --- | --- | --- | --- | --- | --- | --- | --- |
| K.7.01 | byt | 7.NP | 2+kk | SZ | 73,9 m² | - / 35,5 m² + 15,8 m² / - | 126,7 m² | Sold | |
| K.7.02 | byt | 7.NP | 4+kk | JV | 108,5 m² | - / 13 m² + 22,1 m² + 11,1 m² / - | 156,2 m² | Sold | |
| K.7.03 | ateliér | 7.NP | 1+kk | S | 32,8 m² | - / 12,7 m² / - | 46,8 m² | Sold | |

| Number | Type | The floor | Disposition | Orientation | Apartment area | Balcony / Terrace / Front garden | Total sales area | Price incl. VAT | |
| --- | --- | --- | --- | --- | --- | --- | --- | --- | --- |
| K.8.01 | byt | 8.NP | 2+kk | SZ | 72,3 m² | 12,6 m² / - / - | 86,4 m² | Sold | |
| K.8.02 | byt | 8.NP | 2+kk | JV | 70,5 m² | 12,1 m² / - / - | 85 m² | Sold | |
| K.8.03 | byt | 8.NP | 1+kk | JV | 40,5 m² | 3 m² / - / - | 45,5 m² | Sold | |
| K.8.04 | ateliér | 8.NP | 1+kk | SZ | 31,8 m² | 5,5 m² / - / - | 38,6 m² | Sold | |

Number
Type
The floor
Disposition
Orientation
Apartment area
Balcony / Terrace / Front garden
Total sales area
Price incl. VAT
K.9.01
byt
9.NP
3+kk
SZ
105,5 m²
- / 11,2 m² + 4,6 m² + 3 m² / -
122,8 m²

14790000

CZK

Go to detail
K.9.02
byt
9.NP
4+kk
JV
107,7 m²
- / 2,5 m² + 10,5 m² / -
122,2 m²

14890000

CZK

Go to detail

K.9.01 |

byt

| 3+kk | 122,8 m²

Balcony / Terrace / Front garden: - / 11,2 m² + 4,6 m² + 3 m² / -

Price incl. VAT :

14790000

CZK

K.9.02 |

byt

| 4+kk | 122,2 m²

Balcony / Terrace / Front garden: - / 2,5 m² + 10,5 m² / -

Price incl. VAT :

14890000

CZK

Number
Type
The floor
Disposition
Orientation
Apartment area
Balcony / Terrace / Front garden
Total sales area
Price incl. VAT
E.1.09
ateliér (mezonet)
1.NP +2.NP
3+kk
SV
73,8 m²
- / - / 18,4 m²
93,8 m²

9150000

CZK

Go to detail
E.1.11
ateliér (mezonet)
1.NP +2.NP
3+kk
SV
74,6 m²
- / - / 26,6 m²
102,7 m²

9250000

CZK

Go to detail
E.1.10
ateliér (mezonet)
1.NP +2.NP
3+kk
SV
74,2 m²
- / - / 22,3 m²
98,1 m²
Sold

E.1.09 |

ateliér (mezonet)

| 3+kk | 93,8 m²

1.NP +2.NP

Orientation SV

Balcony / Terrace / Front garden: - / - / 18,4 m²

Price incl. VAT :

9150000

CZK

E.1.11 |

ateliér (mezonet)

| 3+kk | 102,7 m²

1.NP +2.NP

Orientation SV

Balcony / Terrace / Front garden: - / - / 26,6 m²

Price incl. VAT :

9250000

CZK

Number
Type
The floor
Disposition
Orientation
Apartment area
Balcony / Terrace / Front garden
Total sales area
Price incl. VAT
E.1.09
ateliér (mezonet)
1.NP +2.NP
3+kk
SV
73,8 m²
- / - / 18,4 m²
93,8 m²

9150000

CZK

Go to detail
E.1.11
ateliér (mezonet)
1.NP +2.NP
3+kk
SV
74,6 m²
- / - / 26,6 m²
102,7 m²

9250000

CZK

Go to detail
E.1.10
ateliér (mezonet)
1.NP +2.NP
3+kk
SV
74,2 m²
- / - / 22,3 m²
98,1 m²
Sold

E.1.09 |

ateliér (mezonet)

| 3+kk | 93,8 m²

1.NP +2.NP

Orientation SV

Balcony / Terrace / Front garden: - / - / 18,4 m²

Price incl. VAT :

9150000

CZK

E.1.11 |

ateliér (mezonet)

| 3+kk | 102,7 m²

1.NP +2.NP

Orientation SV

Balcony / Terrace / Front garden: - / - / 26,6 m²

Price incl. VAT :

9250000

CZK

Number
Type
The floor
Disposition
Orientation
Apartment area
Balcony / Terrace / Front garden
Total sales area
Price incl. VAT
F.2.11
ateliér
2.NP
1+kk
S
29,9 m²
- / - / -
29,9 m²

4020000

CZK

Go to detail
F.2.16
Byt
2.NP
2+kk
JV
57,8 m²
- / 50,5 m² / -
109,8 m²

7680000

CZK

Go to detail
F.3.01
ateliér
3.NP
1+kk
S
24,6 m²
- / - / -
27,6 m²

3530000

CZK

Go to detail
F.3.08
ateliér
3.NP
1+kk
S
23,7 m²
- / - / -
25,1 m²

3310000

CZK

Go to detail
F.3.10
ateliér
3.NP
1+kk
S
24,1 m²
- / - / -
26,1 m²

3470000

CZK

Go to detail
F.3.11
ateliér
3.NP
1+kk
S
30,3 m²
- / - / -
32 m²

4070000

CZK

Go to detail
F.4.01
ateliér
4.NP
1+kk
S
24,6 m²
- / - / -
26,1 m²

3530000

CZK

Go to detail
F.4.03
ateliér
4.NP
1+kk
S
23,7 m²
- / - / -
25,3 m²

3310000

CZK

Go to detail
F.4.11
ateliér
4.NP
1+kk
S
30,3 m²
- / - / -
32,3 m²

4080000

CZK

Go to detail
F.5.16
Byt
5.NP
2+kk
JV
57,8 m²
4,3 m² / - / -
64 m²

7320000

CZK

Go to detail
F.7.11
ateliér
7.NP
1+kk
S
30,3 m²
- / - / -
32,2 m²

4220000

CZK

Go to detail
F.8.04
ateliér
8.NP
2+kk
S
65,2 m²
- / 37,7 m² / -
104,4 m²

7950000

CZK

Go to detail
F.8.05
Byt
8.NP
3+kk
JV
88,4 m²
- / 21,9 m² + 17,1 m² / -
129,1 m²

11370000

CZK

Go to detail
E.2.01
ateliér
2.NP
2+kk
SZ
40,1 m²
- / - / -
41,5 m²

5560000

CZK

Go to detail
E.3.01
ateliér
3.NP
2+kk
SZ
40,1 m²
- / - / -
41,8 m²

5640000

CZK

Go to detail
E.4.01
ateliér
4.NP
2+kk
SZ
42,3 m²
- / - / -
43,8 m²

5720000

CZK

Go to detail
E.5.01
ateliér
5.NP
2+kk
SZ
42,3 m²
- / - / -
43,8 m²

5810000

CZK

Go to detail
E.6.02
ateliér
6.NP
1+kk
SV
36,9 m²
4,7 m² / - / -
43,4 m²

5390000

CZK

Go to detail
K.1.01
ateliér
1.NP
1+kk
S
37 m²
- / - / 20,2 m²
58,5 m²

4890000

CZK

Go to detail
K.1.02
ateliér
1.NP
1+kk
S
41,2 m²
- / - / 19,5 m²
62,2 m²

5290000

CZK

Go to detail
K.1.03
ateliér
1.NP
1+kk
S
45 m²
- / - / 23,1 m²
69,6 m²

5690000

CZK

Go to detail
K.1.04
byt
1.NP
1+kk
JV
35,7 m²
- / - / 20,9 m²
58,2 m²

4920000

CZK

Go to detail
K.1.05
byt
1.NP
1+kk
JV
38,8 m²
- / - / 20,4 m²
60,7 m²

5350000

CZK

Go to detail
K.1.06
byt
1.NP
1+kk
JV
40,1 m²
- / - / 22,9 m²
64,5 m²

5530000

CZK

Go to detail
K.2.01
ateliér
2.NP
2+kk
S
63,1 m²
7 m² / - / -
71,7 m²

7590000

CZK

Go to detail
K.2.02
ateliér
2.NP
1+kk
S
39,4 m²
4,3 m² / - / -
45,2 m²

4840000

CZK

Go to detail
K.2.03
ateliér
2.NP
1+kk
S
43,6 m²
4,3 m² / - / -
49,4 m²

5290000

CZK

Go to detail
K.2.06
byt
2.NP
1+kk
JV
38,2 m²
4,3 m² / - / -
44 m²

4990000

CZK

Go to detail
K.2.07
byt
2.NP
1+kk
JV
41,2 m²
4,3 m² / - / -
47 m²

5370000

CZK

Go to detail
K.2.08
byt
2.NP
1+kk
JV
34 m²
8,2 m² / - / -
43,5 m²

4640000

CZK

Go to detail
K.3.02
ateliér
3.NP
1+kk
S
39,4 m²
4,3 m² / - / -
45,1 m²

4920000

CZK

Go to detail
K.3.03
ateliér
3.NP
1+kk
S
43,6 m²
4,3 m² / - / -
49,3 m²

5350000

CZK

Go to detail
K.3.07
byt
3.NP
1+kk
JV
41,2 m²
4,3 m² / - / -
47,1 m²

5450000

CZK

Go to detail
K.4.03
ateliér
4.NP
1+kk
S
43,6 m²
4,3 m² / - / -
49,5 m²

5430000

CZK

Go to detail
K.4.04
ateliér
4.NP
1+kk
S
38,3 m²
8,6 m² / - / -
48,3 m²

4790000

CZK

Go to detail
K.4.07
byt
4.NP
1+kk
JV
41,2 m²
4,3 m² / - / -
47,2 m²

5570000

CZK

Go to detail
K.5.03
ateliér
5.NP
1+kk
S
43,6 m²
4,3 m² / - / -
49,4 m²

5510000

CZK

Go to detail
K.5.04
ateliér
5.NP
1+kk
S
38,3 m²
8,6 m² / - / -
48,4 m²

4860000

CZK

Go to detail
K.5.05
byt
5.NP
2+kk
JV
56,4 m²
4,3 m² / - / -
62,4 m²

7190000

CZK

Go to detail
K.5.07
byt
5.NP
1+kk
JV
41,2 m²
4,3 m² / - / -
47,5 m²

5650000

CZK

Go to detail
K.6.01
byt
6.NP
2+kk
SZ
63,1 m²
7 m² / - / -
72,1 m²

7990000

CZK

Go to detail
K.6.02
ateliér
6.NP
1+kk
S
39,4 m²
4,3 m² / - / -
45 m²

5070000

CZK

Go to detail
K.6.03
ateliér
6.NP
3+kk
S
83,3 m²
8,6 m² + 4,3 m² / - / -
98,4 m²

9910000

CZK

Go to detail
K.6.04
byt
6.NP
2+kk
JV
56,4 m²
4,3 m² / - / -
63,1 m²

7390000

CZK

Go to detail
K.9.01
byt
9.NP
3+kk
SZ
105,5 m²
- / 11,2 m² + 4,6 m² + 3 m² / -
122,8 m²

14790000

CZK

Go to detail
K.9.02
byt
9.NP
4+kk
JV
107,7 m²
- / 2,5 m² + 10,5 m² / -
122,2 m²

14890000

CZK

Go to detail
O.1.01
ateliér
1.NP
1+kk
SZ
36,2 m²
- / - / 5,3 m²
42,8 m²

4650000

CZK

Go to detail
O.1.02
ateliér
1.NP
1+kk
SZ
33,9 m²
- / - / 9,8 m²
45 m²

4390000

CZK

Go to detail
O.1.03
ateliér
1.NP
1+kk
JV
37,9 m²
- / - / 22 m²
61,2 m²

5050000

CZK

Go to detail
O.1.04
ateliér
1.NP
1+kk
JV
34,2 m²
- / - / 15 m²
50,5 m²

4690000

CZK

Go to detail
O.1.05
ateliér
1.NP
1+kk
JV
33,7 m²
- / - / 16,5 m²
51,5 m²

4680000

CZK

Go to detail
O.1.06
ateliér
1.NP
1+kk
SZ
44,3 m²
- / - / 23,3 m²
67,6 m²

5550000

CZK

Go to detail
O.2.01
ateliér
2.NP
3+kk
SZ
77,8 m²
- / 43 m² / -
123,1 m²

9390000

CZK

Go to detail
O.2.04
ateliér
2.NP
2+kk
SZ
60,2 m²
5,5 m² / - / -
67,2 m²

7320000

CZK

Go to detail
O.2.06
ateliér
2.NP
1+kk
JV
34,9 m²
- / - / -
36,4 m²

4210000

CZK

Go to detail
O.2.07
ateliér
2.NP
1+kk
JV
35,5 m²
- / - / -
37 m²

4280000

CZK

Go to detail
O.2.08
ateliér
2.NP
2+kk
JV
54,3 m²
7,4 m² / - / -
63,2 m²

7070000

CZK

Go to detail
O.3.02
ateliér
3.NP
1+kk
SZ
38,6 m²
4,7 m² / - / -
44,8 m²

4750000

CZK

Go to detail
O.3.03
ateliér
3.NP
1+kk
SZ
36,3 m²
4,7 m² / - / -
42,5 m²

4520000

CZK

Go to detail
O.3.04
ateliér
3.NP
2+kk
SZ
60,1 m²
5,6 m² / - / -
67,4 m²

7390000

CZK

Go to detail
O.3.05
byt
3.NP
1+kk
JV
31,6 m²
8,8 m² / - / -
42,1 m²

4360000

CZK

Go to detail
O.3.06
byt
3.NP
1+kk
JV
34,9 m²
- / - / -
36,4 m²

4390000

CZK

Go to detail
O.3.08
byt
3.NP
2+kk
JV
54,3 m²
7,4 m² / - / -
63,7 m²

7170000

CZK

Go to detail
O.4.02
ateliér
4.NP
1+kk
SZ
38,6 m²
4,7 m² / - / -
45,1 m²

4810000

CZK

Go to detail
O.4.03
ateliér
4.NP
1+kk
SZ
36,3 m²
4,7 m² / - / -
42,9 m²

4610000

CZK

Go to detail
O.4.05
byt
4.NP
1+kk
JV
31,6 m²